«

Go Back
The Power of Video Email
Providing an outstanding communication for your prospects is key to converting more students for your school or college. In a world of notifications and busy inboxes, video email can help you to stand out from the crowd.
What is video email?
Let's start with the basics, many email clients do not support embedding full videos into emails so marketers and software providers have found some creative ways to make video a key part of the email marketing strategies.
Software like Vidyard allows you to record personalised videos that can be shown as a GIF in the body of an email. When clicked, the contact is taken to the full video.
Here's an example…
To: Lucy <[email protected]>
From: A Lovely College
Subject: Thank you for your application!
______________
Hi Lucy
Short video from our Headteacher for you: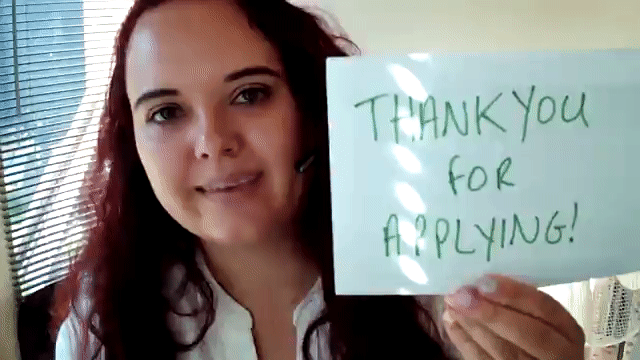 Check out this video: https://share.vidyard.com/watch/yGpEJhMywKr5M54eBEB6GW?
You will hear from us with more details about your admission to our school in the coming weeks, if you have any questions in the meantime, you may find the answers in our FAQs or you can contact our admissions team by emailing [email protected]
Best wishes
Head of Admissions

Why use video email in education?
Better engagement: Whether you create a personalised video like the one above, or a more general approach that can be sent to many contacts, video emails get much better engagement rates. Across sectors, research has shown that video emails see 5x higher open rates and 8x higher open-to-reply rates

Personalised: Your prospects will be delighted that you have taken the time to send them a personalised video. This doesn't need to just be from the admissions team, as your prospect moves through your admissions funnel they could receive video emails from their Head of Year, tutor, teachers, course leaders or even your catering team explaining how yummy your food is! Think about the different emails you could send to international students, agents, feeder schools… there's lots of potential to make an impact.

Stand out from the crowd: Video email is still very new and is gaining popularity around the world very quickly, in education very few organisations have embraced this trend so far. You have an opportunity to make a lasting impression on your prospects.

Simple to create: The best thing about video emails like the example above, is how simple they are to create. Using a tool like Vidyard, you can record directly from your webcam and it is ready in seconds. No video or technical skills required – making video email accessible for your whole team.

Works at every stage of your customer journey: From initial contact with agents, or following up with a prospective student who has downloaded a prospectus – video works at the very top of your admissions funnel. It also makes a big impact at the middle of your admissions funnel, a way to follow up after open events, invite your prospect in for a visit, or simply a way for key staff to introduce themselves. At the bottom of the funnel, the people who have applied and are moving through your admissions processes, video email is a great way to keep in touch and provide an update on the next steps.

Once a student has joined the school, video emails are a great way to provide key updates from your Headteacher, or even from tutors who want to record individual messages to their students. Teachers could even use video emails as a way to provide additional learning or homework prompts to students… the only limit is your imagination!

Easy analysis: Get insights such as when a contact has watched your video and how much of the video they watched. This analysis can help you to establish what works well for different audiences and where to focus your efforts.
Video email can also form an essential part of an inbound admissions strategy, find out more about inbound admissions.
We offer video email training, designed at helping you introduce video email for your school or college.
Written by Gemma Price, Founder and Education Growth Consultant, HubGem Marketing