«

Go Back
TOP 5 ACTIONABLE TIPS FOR EMBRACING AN INBOUND ADMISSIONS STRATEGY
What is inbound admissions?
'Inbound' is used to describe an approach to customer service. Providing value at every touch point from initial marketing communications through the sales process (in education, the admissions process) and then the ongoing service or support you offer your customers.
This is especially important in schools where the relationship between the school and parents is key to the running of the school, the success and happiness of the children, and the satisfaction of the parents.
Choosing an independent school is one of the biggest decisions a parent will ever make both for their child's life, and of course, financially. It is really important to build trust and provide value, and the best possible experience, for your parents throughout the admissions process.
Simply put: Inbound admissions is about providing as much value as possible to contacts at every point of their admissions journey with you.
5 actionable tips for schools and colleges:
1 – Collaborate and share your insights
In our experience, admissions teams know a lot! The stuff that you know, and the questions that you can answer, are directly of interest to your school's prospects – share this information in the right places and you can transform your student recruitment processes and grow your student numbers.
We recommend sitting down as a team, with marketing, admissions, senior leaders and anyone else involved in communications. Note down all of the questions that you are asked frequently, then write down the answers to these questions, then decide where you will share these answers.
Here's some free worksheets to help with this process.
Share these insights as widely as possible and delight your prospects, increase your web traffic and optimise conversions.
2 – Answer your prospects questions before they even ask
This is a follow up to the last point. Once you know what questions are asked by prospects at each point of their admissions journey, make sure you plan how you are going to share the answers to these questions.
Have a Knowledge Base or FAQs pages on your website to help prospects navigate and help themselves to the answers to their questions.
The benefits of doing this?
✅ Improve your prospect's experience navigating your website
✅ Improve your website's SEO
✅ Reduce the number of interruptive calls and emails you get that ask the same questions
3 – Offer multiple convenient channels of communication
We live in a world of convenience and instant responses – and your prospects will be familiar with engaging with brands in multiple different ways.
With inbound admissions aiming to provide the most possible value to prospects (and help you stand out from the crowd), it's a good idea to look at how you currently handle queries. What methods can prospects use to contact your team?
There will likely always be a demand for some phone calls and emails from prospects, but there are other, newer channels of communication that have rapidly gained popularity. Have you considered live chat? Facebook Messenger? WhatsApp? If prospects would like to use these methods, you can provide an experience that best meets their requirements.
Remember that convenience for prospects does not need equal more work for admissions teams.
Tools like HubSpot allow you to bring all messages into one inbox to help you manage multiple platforms. Use simple automation with your live chat (or 'chatbots') that can help you manage your incoming conversations. Also, if you use a Knowledge Base for FAQs a chatbot could automatically send your prospect to the answer to their question before checking if they want to speak to a human.
4 – Maintain consistency of communications and brand
Ahead of applying to your school, it is likely that your prospect has interacted with your brand online (social media, website…) and in-person (remember those days?!) at open events. These digital platforms and marketing events are usually on-brand, rehearsed and polished experiences.
The prospect hopefully now associates your brand with trust, value and quality, and every chance you get to reaffirm this is an opportunity. Emails are often a missed opportunity.
Take a look at the below emails:
Email 1:

Email 2: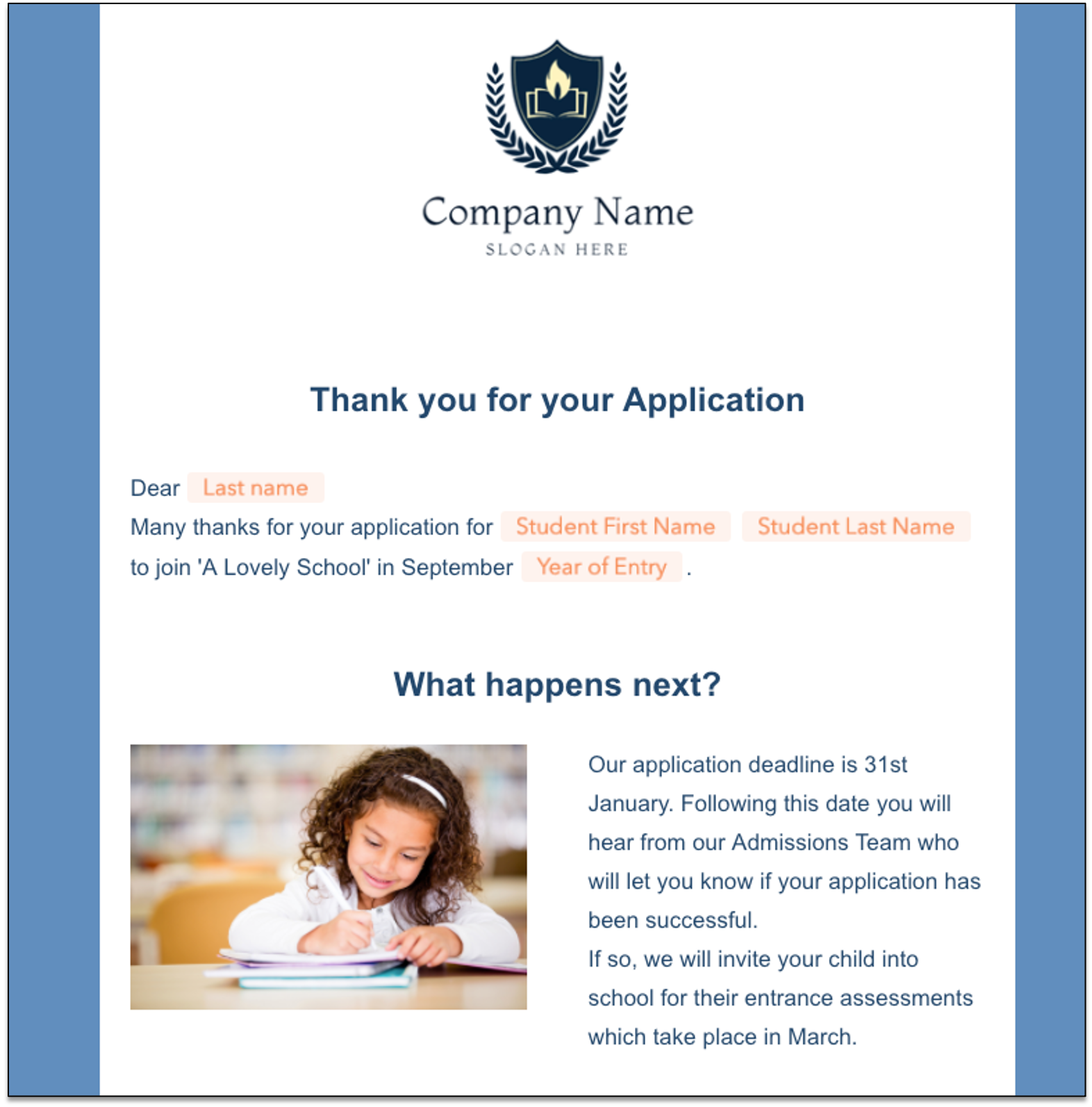 Both of these emails essentially say the same thing, but email 2 is much more impactful. Let's look at why:
1) Personalised – this email is using personalisation tokens (a bit like a mail-merge) to personalise with names of the parent and student. Showing how much you value them as individuals.
2) Branding – this is another opportunity to reaffirm that your school's brand stands for trust, value and quality (anything that your brand stands for), this should mirror colours, style and tone of voice used across all other channels – especially social and website.
3) Imagery – although this prospect has now applied, their journey is still very new. The marketing element should continue – and should always continue – using on-brand images that show amazing facilities, smiling pupils and friendly staff will confirm to your prospect that they have chosen the right school for their child
4) Answering FAQs – the admissions process has lots of frequently asked questions. Provide value at every touch point by answering your contact's questions before they reach out to you. This will have the added advantage of saving you time answering the phone or emails with these questions.
5) Sign off as a real person – although this email doesn't show the footer, we would always advise signing off as an individual rather than a team – think of yourself as a customer, having a named person of contact is a reassurance and brings more trust to your prospect. Even if this email comes from [email protected] or replies need to go to a shared inbox – giving a name of the main admissions contact here provides extra value and personal approach.
5 – Make an impact with video email
In a world of notifications and busy inboxes, video email can help you to stand out from the crowd.
Learn more about video email and how it can make a big impact for admissions teams.
Finally, remember that inbound admissions is all about providing the most possible value to your customers at every touch point. Use digital platforms to your advantage here and mass personalised communications become simple and effective admissions tools.
Want to discuss this in more detail or learn more about HubSpot? Book a free consultation with our Education Growth Consultant, Gemma.